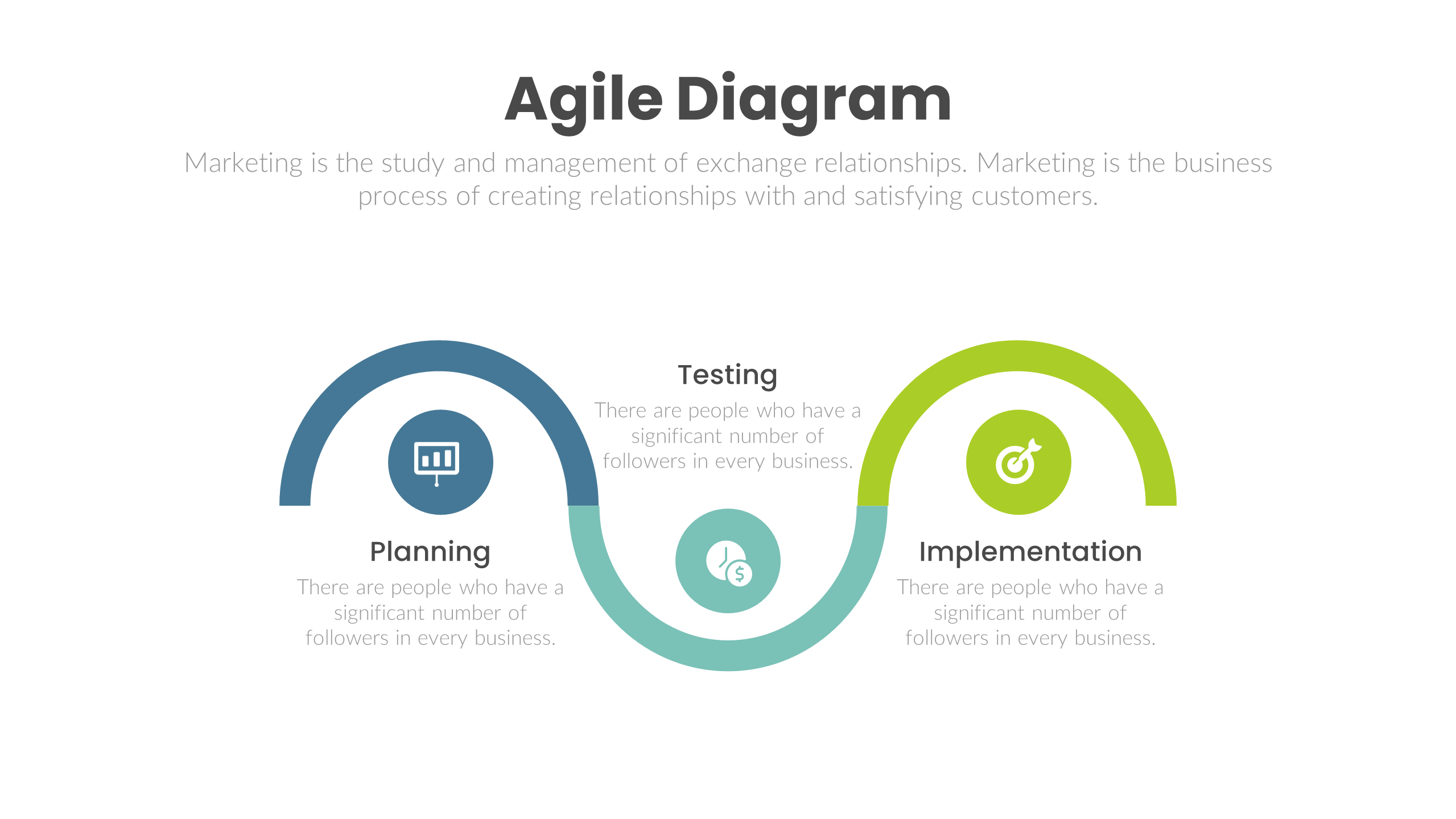 Version
Download

55

File Size

73.60 KB

File Count

1

Create Date

August 19, 2023

Last Updated

August 19, 2023
Agile Diagram
Decoding Agile Visually: The Agile Diagram PowerPoint Template Awaits
A hearty hello to Agile aficionados, project leaders, and all proponents of dynamic development!
The realm of Agile is vast and varied, filled with methodologies, roles, processes, and interactions. Explaining these elements, especially to those less familiar, often calls for more than mere words. Visual representation, through diagrams, becomes the key to demystifying the world of Agile.
Understanding this, we're thrilled to present the Agile Diagram PowerPoint Template. Crafted with precision and designed for clarity, this template turns Agile concepts into comprehensive visual tales.
Navigating the Template: What's Inside?
Frameworks Unfolded: Dive deep into Scrum, Kanban, XP, and more, with distinct diagrams that break down each framework's structure and flow.
Collaboration Maps: Understand how product owners, developers, and testers interact in an Agile setup through collaborative diagrams.
Lifecycle Graphs: Capture the essence of sprints, releases, and feedback loops, portraying the cyclic nature of Agile.
Key Concepts Visualized: From backlogs to burndown charts, visualize core Agile elements in ways that resonate with all audiences.
Why This Template is Your Go-To:
Clarity and Comprehension: Turn complex Agile terminologies and interactions into easy-to-grasp diagrams.
Adaptable Essence: True to Agile's spirit, this template is flexible, allowing for modifications to cater to your project's specifics.
Engaging Design: The blend of vibrant colors, clean lines, and focused design ensures your audience remains intrigued and informed.
Best Suited For:
Agile trainers, team leaders, consultants, and anyone keen on visually interpreting and representing the intricate dance of Agile methodologies.
Embrace the Visual Language of Agile
If you're set to unravel the beauty and brilliance of Agile, Download the Agile Diagram PowerPoint Template now and let visuals do the talking.
Tips for an Impactful Presentation:
The Prelude: Start with a broad overview of Agile, setting the stage for deeper dives.
Narrate with Stories: Weave in real-life examples and scenarios to complement your diagrams, adding context and relatability.
Facilitate Conversations: After each significant section, foster interactions, addressing queries and sparking discussions.
Peek into the Future: Highlight the evolving landscape of Agile, preparing your audience for what lies ahead.
---
Dive into the world of Agile with diagrams that illuminate, educate, and inspire. With the Agile Diagram PowerPoint Template, every facet of Agile becomes a visual journey, narrating tales of adaptability, collaboration, and continuous delivery.
Unveil the Agile spectacle, one diagram at a time!
Attached Files