Free Sample Job Cover letter Template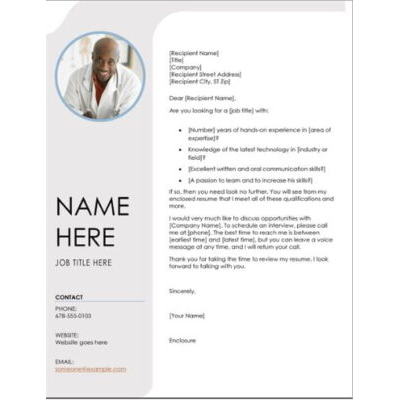 Blue Grey Cover Letter : If you are looking for an impressive free cover letter for your job application, look no further. This cover letter example format showcase your experience and talent with style. It also includes photo to give priority over other job applicants. This template is easily customizable, you change font, color format, background style. You can search blue grey resume format to match this cover letter.
If you are struggling. Don't know what to write in your covering letter, and the way you must say it?. Not to worry, We'll help you to write a good employment application, so you'll be able to get your dream job.
When writing your covering letter, you should know basic rule:
Introduction: Carefully write so that you get hiring manager's attention and explain yourself why you would like the task.
Body paragraphs: you must write minimum two paragraphs detailing your relevant education, skills, work experience, and suitability for the work.
Conclusion: A concise ending that reiterates your strengths, and asks the hiring manager to contact you.
How to write the best Cover letter
Step 1: Put your contact details (and the employer's) within the header
Step 2: It is advisable to address the hiring manager by their name
If you're not certain about the recruiter's title (like Mr., Mrs., Ms., Dr., etc.,) then you can address as "Dear XX" or 'Dear Sales Department'.
Step 3: Introduce the hiring manager with a powerful introduction
Intro Paragraph
Job seekers must include the following while writing cover letter for Job application:
Job position: mention the name of the position you're applying for
Company name: The name of the corporate you're applying for
Intention to apply: An enthusiastic announcement that you're applying for that position
So long as your cover letter's have ingredients, you'll successfully mesmorize the hiring manager to reading more.
Step 4: Prove that you're the most suitable candidate for this Job
Body Paragraphs
It's time to argue persuasively why you're the right person to try and fit for the Job. to write down these paragraphs well, and sell yourself as great candidate, remember below three main points:
Be bold, but don't brag and show oversmart:
Be honest, and don't embellish Don't lie or perhaps stretch the reality about your experience
Don't include irrelevant information
Step 5: Close your covering letter with letter of invitation to interview Closing Paragraph
When writing your missive closing, be polite, confident, and still sell yourself as a candidate. It's important to write down your final paragraph as thoughtfully and strategically because the remainder of your covering letter, so make certain to incorporate the following:
1. Thank the hiring manager for reviewing your resume and canopy letter
2. Concisely summarize why you'd be a decent hire
3. Reiterate your excitement about the chance
4. Politely ask them to send you an invite to interview
Step 6: exit with an expert closing salutation
Use These 7 Professional covering letter Sign Offs
1. Sincerely
2. Best
3. Regards
4. Thank you
5. Respectfully
6. Kind regards
7. Best regards
[crp]
Download this editable Blue Grey Template