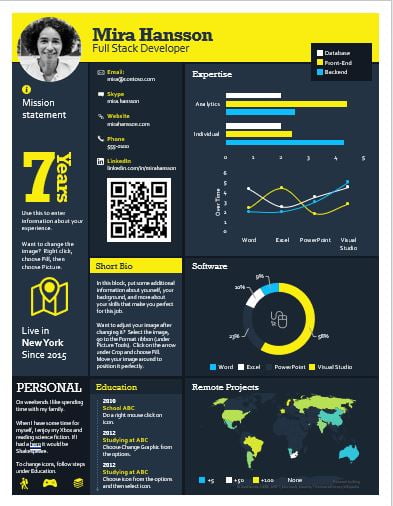 Template Info :
Last Updated
January 15, 2021
Related Presentation Templates
About this Tech Infographic Template
Tech Infographic  is a free resume format in PPTX templates. This resume template includes four charts to visualize your data. Icons and bold modern design emphasize important information. Interviewer can get easy snap shot of your.  By using our designs you can create right impression and helps you to get right job.
You can preview before free resume templates from PPTX Templates and edit as per your requirement.
Which Resume Format To Use?
You need to carefully choose your appearance on the day of the interview. You should be ready for interview before you go for an interview. In the whole process of prepare for an interview, we often tend to undermine the appearance of our resume. Resume is you marketing document to get been sold at higher price and It's almost dressing your resume up. Remember the two factors that work in a resume that being picked up by interviewer among a pile of others candidates . "The What and The How"? You may have worked in extreme conditions, or you may have single handedly pioneered a startup or just starting out of college. In any of the case resume format should be designed in a way to highlight the best of your abilities in the most readable way. You should make sure that resume formats show your greatest achievements are right there on the top, ready to be noticed.

The most preferred resume formats by Job hunters, Job seekers and Human Resources Managers across is the 'Reverse Chronological format'. Choosing what to place first among the your other career highlights or achievements should be a well thought over decision. What you place on the top is what you want to be seen first. These things which might seem trivial play a vital role in the final decision. To learn more about different resume styles click here
How to customize resume as per the Job description?
Every job has different requirements — ensure your resume addresses them. More often than not, this implies some tweaks instead of a serious rewrite. In some cases, you only must reorder bullet points, drawing attention to skills and accomplishments most relevant to the task. Other times, you will must rewrite your summary statement to raised fit the task description, or revise your work history section to incorporate specific job accomplishments that fit what the new job needs.
---
Click the Link Below to Download Tech Infographic Free PPTX Template